A Belize destination wedding can be a dream come true; that is if summer-like weather, breath-taking views and lots of colorful tropical flowers are in your dream wedding. Xanadu Island Resort is just the place to make your dream wedding a reality. Our tropical gardens and white sandy beach are the perfect setting for your exotic Belize wedding. Among swaying palm trees, or on our pier under a natural palapa, your ceremony and celebration will be a beautiful and extraordinary experience.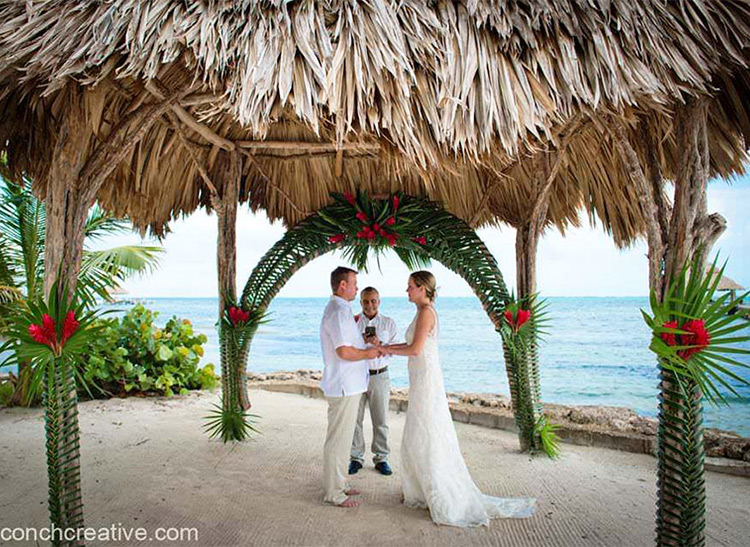 A Belize wedding is legally recognized all over the world and the requirements for getting married in Belize is easier than ever. Below is a list of requirements to consider when planning your Belize destination wedding.

REQUIREMENTS FOR GETTING MARRIED IN BELIZE
Couples must be in Belize for a minimum of three full working days (72 hours, Mon-Fri) prior to filing for their marriage license.
The application process is one day and must be notarized by a Justice of the Peace and requires proof of citizenship, passport and original birth certificate. Passport must show date of entry stamp.
If either party was previously married, proof of divorce, if applicable (an original or certified copy of your divorce certificate), or a certified copy of decree or death certificate is necessary if you're a widow or widower, and must be submitted with the license application.
A blood test is not required. Consent from a parent is not required if both partners are over 18 years of age.
Weddings must be performed by either a Senior Justice of the Peace who has authority to marry people, a boat captain, or a Minister of a registered church.
There must also be two witnesses, a male and a female. If a couple is traveling alone, resort staff and/or guests are usually willing to stand in as witnesses.
The marriage must be registered with the Registry Department after the marriage ceremony has been completed.

If you are getting married at Xanadu, our Belize Destination Wedding Package includes the application and processing of your wedding license as well as registration of marriage and certified copy of marriage certificate, making it hassle-free for you.  If you have any further questions about getting married in Belize, please feel free to contact us and we would be glad to help.