Belize. The kind of place where you can smile and wave at a stranger, and they'll smile and wave back. While there is virtually tons to see and do here, many visitors to Belize come to see firsthand the spectacular beauty of the Belize Barrier Reef. At 192 miles, the reef is the second-longest in the world, making it a veritable playground for ardent sea lovers. For the past twenty years, Xanadu Island Resort has called Ambergris Caye its home. Friendly and charming, the island offers some of the best diving, snorkeling, and fishing tours for enthusiasts and newbies. So, whether you're new to snorkeling or traveling to Belize for the first time, our guides have put together some 'where to go' and 'what to do' Belize snorkeling tips and advice for beginners and enthusiasts.

Snorkeling is an enjoyable and relatively easy pastime. With the proper equipment, some skill, and sound advice about sea conditions, a first-time snorkeling tour experience can be safe and fun.

Here's a good general rule of thumb: schedule your Belize snorkeling tours in the mornings for better visibility. The wind generally picks up in the afternoon, and with it, increased wave activity. As a result, you may encounter poor underwater visibility. Some of the top Belize snorkeling tours that offer the best in marine life diversity and spectacular underwater vistas include Hol Chan, Shark Ray Alley, Mexico Rocks, and Tres Cocos.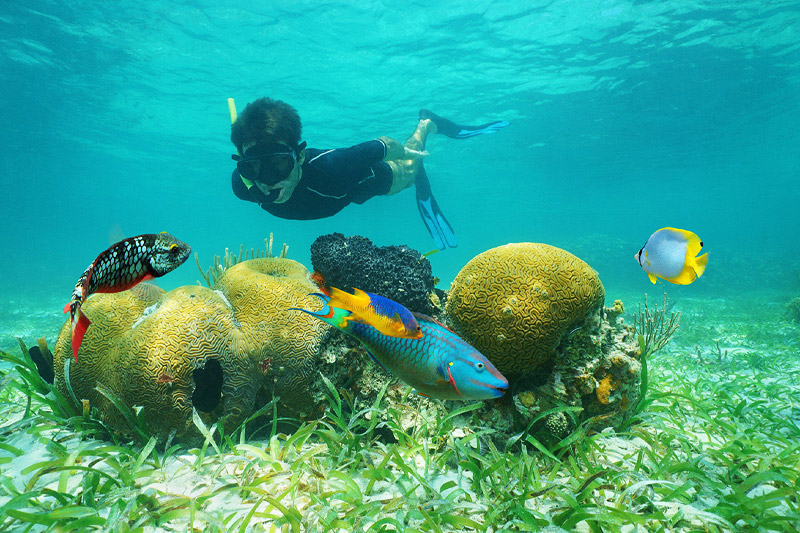 The Hol Chan (Maya for 'little channel') snorkeling tour affords an extraordinary range of marine diversity. For the slightly more adventurous lot, there's Shark Ray Alley that gets you remarkably close to entire herds of nurse sharks. Both Hol Chan and Shark Ray Alley feature reasonably shallow water, clear white sand, and spectacular visibility. Night-time snorkeling at Hol Chan also comes highly recommended by our guides and past guests. Mexico Rocks is also an excellent snorkeling option. With plenty of large coral formations and an abundance of marine life such as stingrays, angelfish, and hawksbill turtles, you can count on this tour being a magical experience. Mexico Rocks is also a great location for first-timers because it's a reasonably shallow site (about four feet deep). A combination of this and Tres Cocos would amount to a great Belize snorkeling experience.  

To maximize your time on the water and increase your fun, we offer several combo sail and snorkel tours. These give you the option of combining snorkeling with sailing, fishing, and beachside BBQ-ing. It's a perfect mix of adventure, the outdoors and peace and relaxation. Set sail north of Xanadu to Mexico Rocks and Tres Cocos on a catamaran, snorkel at your own pace, stop for a pleasant jaunt on the beach, feast on fish that you caught, followed by a relaxing sail back to the resort. Or, if you like, you can choose instead a snorkeling tour that includes a visit to the sister island of Caye Caulker. On days like this, you may find that sailing back to Xanadu at the end of the day, to a cool bed, air-conditioning, the sound of the waves and the scent of the gardens below, is all you need to bring a most satisfying day to an end.

Culturally and naturally diverse, Belize offers a lot to visitors, and for those looking to literally 'dive in' and experience something magical. Contact us today, and we'll help you plan your trip to Belize along with a snorkeling tour or two that's right for you.