Unforgettable Family Vacations at Xanadu
Belize Family Vacation Packages
At Xanadu families are welcome. There are many ways to keep the younger members of the family entertained. A snorkel trip to Hol chan & Shark Ray Alley in the marine park. There are sailing, snorkelling & bbq trips as well as jet ski's and small catamarans that can be rented. A trip to the mainland is also an activity that families enjoy – a visit to the zoo, cave tubing, ziplines and of course explore a Mayan Ruin.
Our Family-Friendly Packages
Our Family-Friendly Suites
There are a variety of suites at Xanadu that are suitable for families with children. On the ground floor there are 4 two bedroom suites and 2 one bedroom suites – these are all on one level. There are two and three bedroom suites on the upper floors with one and two levels which are better for families with older children. Cribs (foldable pack & play) and highchairs are available on request. To end a lovely day the parents can enjoy a cocktail at the bar while the children enjoy a fruit smoothie alongside them.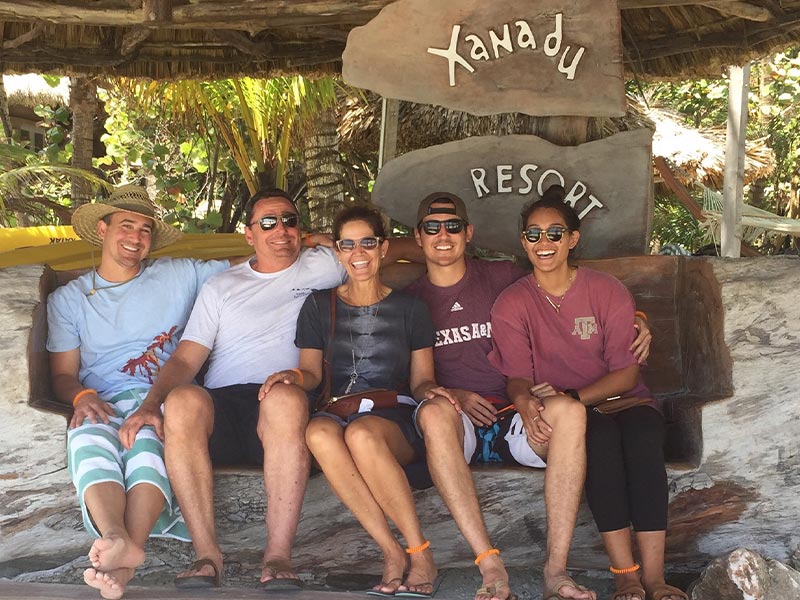 Fun & Adventures
For Everyone
The smallest ones enjoy the shallow end of the pool and the endless amounts of sand to play with. Those who enjoy nature will love to watch the tiny lizards scuttle across the plants or see the hermit crabs working their way across the pathways. The birdfeeders create an interesting period every day as many different birds come to sip away at the syrup provided. There is a wooden bird & nature walk that leads guests high up into the trees and down the other side with the return path going right through a Banyan tree.
The older children enjoy the pool, and can play on the beach with a bat and ball or challenge one another to a corn toss game. The kayaks and paddleboards can be enjoyed by all and swimming at the end of the dock is great fun. Xanadu has bicycles for all ages as well as a baby seat on one of the adult bicycles for a little one too small to ride by themselves. For activities away from the resort guests can take smaller children on the glass bottom boat to see the reef. Read more about what makes us so kid-friendly.
The Condo was perfect and the employees were even better. All of the excursions were absolutely the best and had wonderful guides. We didn't miss out on a thing and I'm glad. Couldn't be happier and can't wait until we can go back.